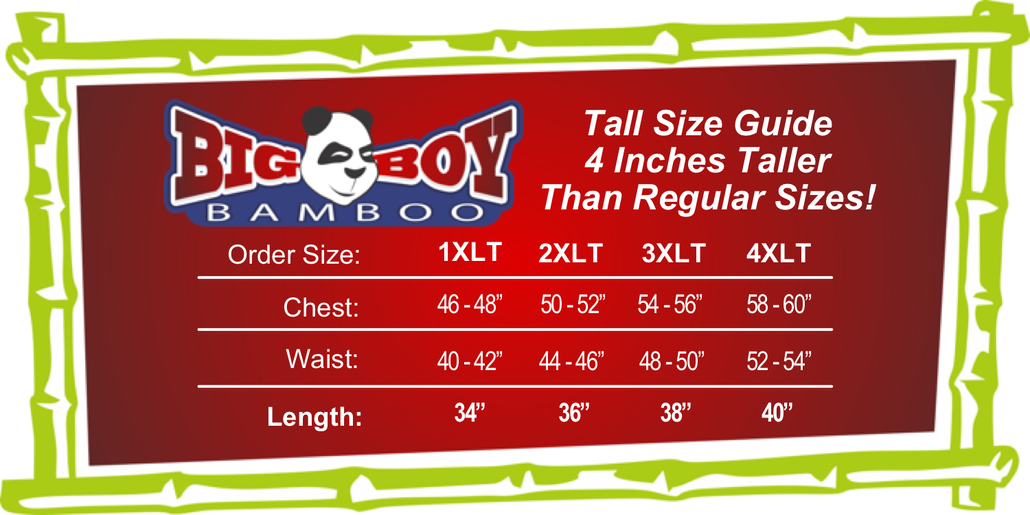 Men's Tall Pocket Crew Neck Bamboo T-Shirts are 4 - 6 inches longer than regular t-shirts.
Big Boy Bamboo Tall Men's Pocket Crew Neck T-Shirts are our answer to your most common complaint about Big and Tall clothing. Now, you no longer have to sacrifice fit for length.
Your new bamboo-blend tall tee shirt fits like it's supposed to, and it's long enough to keep your belly covered, even when you move. The premium blend of viscose from organic bamboo and organic cotton makes this silky-soft bamboo t-shirt the most versatile thing in your closet. Wear it tucked in with slacks for a business casual look, or pair it with your lucky underwear and a plate of nachos for something more game-day chic.
Our Premium Blend of 70% viscose from organic bamboo and 30% organic cotton
Has a pocket for important stuff like pens, cell phones and girls' phone numbers (you could also use them for cigarettes but our cartoon panda mascot, Paunch would be very unhappy)
Care Suggestion: machine wash cold, use eco-friendly detergent, hang dry, but you can tumble dry low if you really want to
Even more comfortable than being naked
Silky, luscious, and soft, but not too fancy for everyday wear
Wear these big & tall shirts to work, whether it's business casual or manual labor
Sweat and body odor are controlled thanks to natural fibers
Breathable, all-weather tall fabric stays cooler than cotton in the summer and keeps you comfortably warm in lower temperatures
Bamboo-blend fabric is more stain-resistant than cotton alone
Specifically designed for big and tall guys according to your feedback and suggestions
Available in tall sizes 1XLT, 2XLT, 3XLT and 4XLT