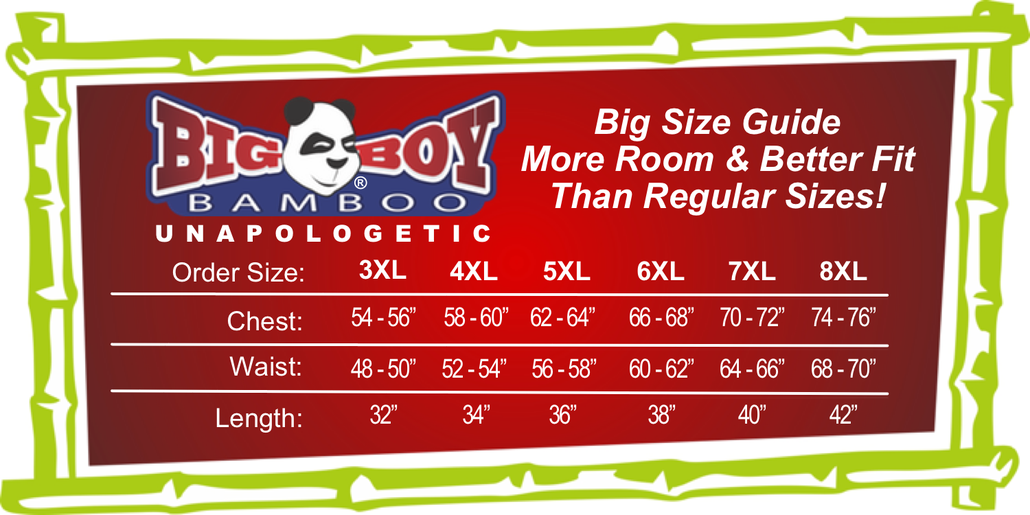 Men's Big Pocket Crew Neck Bamboo T-Shirts are 4 - 6 inches longer than regular t-shirts.
This Big Boy Bamboo Crew Neck with Pocket Bamboo t-shirt belongs in every fat guy's closet. The familiar crew neck says "I have more important things to do than quibble over the latest ridiculous fashion trends," and the pocket says "I'm professional enough that I might have to carry a pen one day."
With slacks and a jacket, it's the most comfortable and softest men's t-shirts you'll ever wear in the office, but it's equally well suited for a 10-hour, pants-optional video game marathon in your man cave. Available in 3XL, 4XL, 5XL, and 6XL bamboo t-shirt sizes.
Unique Fabric Blend created with viscose from organic bamboo (70 percent) and organic cotton (30 percent)
Our shirts are easy to care for by simply machine washing cold and hang drying (if you do use a dryer, please use low heat)
Our men's bamboo t-shirts are the softest and offer a high level of comfort with little care
Our unique bamboo-derived fabric provides a silky feel
This crew neck with pocket has enough style to be used for a business-casual look
Due to the quality fabric, this bamboo t-shirt is durable enough for use as a work shirt
The unique bamboo fabric blend helps to control your body odor and levels of sweat
The breathable quality of these men's bamboo shirts means they are comfortable in all types of weather
More stain-resistant than plain cotton
Designed especially for big guys
Our bamboo clothing for men are available in sizes 3XL, 4XL, 5XL, 6XL, 7XL & 8XL